DAVID KANZE, DO, FAAO
David Kanze, DO, FAAO, was born in Wynnewood, PA and grew up in Havertown, PA. He graduated from Haverford Senior High School and then matriculated and graduated from Temple University. He is a 2005 graduate of the Philadelphia College of Osteopathic Medicine (PCOM) and a 2009 graduate of Botsford Hospital's Family Practice/Neuromusculoskeletal Medicine residency, in Farmington Hills, MI where he served as chief intern. After a four-year stint as undergraduate fellowship director for the OPP department at Rocky Vista University, he moved to Washington state to become the Family Medicine/OMT Residency Program Director for Skagit Regional Clinics.
He is board certified in Family Medicine/Osteopathic Manipulative Treatment and Neuromusculoskeletal Medicine. He has run multiple teaching programs in Osteopathic Manipulative Medicine, in addition to leading many medical mission trips to Guatemala and Peru. David has been published in medical journals for osteopathic manipulative medicine and travel medicine topics.
David's interest is in how the body functions as a whole (mind, body and spirit) and how injury patterns set in and how the osteopathic approach can treat such. He is also intrigued by the healing power of music and often combines this into his treatments. His ultimate goal is the primary prevention of injuries and in returning the body to its full Health.
David loves treating patients of all ages especially high end athletes, adolescents and children with special needs. In his spare time, he enjoys spending time with his wife, Kylie, his children, Cooper and Cassidy, as well as traveling, playing hockey, taking pictures and hiking.

KYLIE KANZE, D.O.
Kylie Kanze, DO is a native Pennsylvanian. She is originally from DuBois, PA and graduated in 2001 from the Pennsylvania State University. She is a 2006 graduate of the Philadelphia College of Osteopathic Medicine (PCOM) where she completed a one-year Osteopathic Manipulative Medicine Fellowship. Her pediatric residency training occurred at the Children's Hospital of Michigan, in Detroit, MI, finishing in 2009.
After residency training Kylie had a faculty position at Rocky Vista University College of Osteopathic Medicine in Parker, CO as well as providing general pediatric care in a group medical practice. Since 2014 she has lived in Bellingham, WA with her husband and two children and in 2016 opened her Pediatric Osteopathic Manipulative Medicine practice, Building Blocks Osteopathic Medicine. She is excited to have relocated back to the Philadelphia area in 2017. Her hobbies include gardening, hiking, snow skiing and loving on her husband and two children.
As board certified pediatrician, her main focus is treating children from newborns to teenager and young adults with a special interest in working with children with autism and special needs. She takes the time that is necessary to get to know you and your child and to listen to all your concerns.
Kylie's main interest is having your child live at their highest level of Health at all times and in restoring Health to the children that are struggling. Her whole body approach revolves around the mind, body, spirit tenets of osteopathic medicine.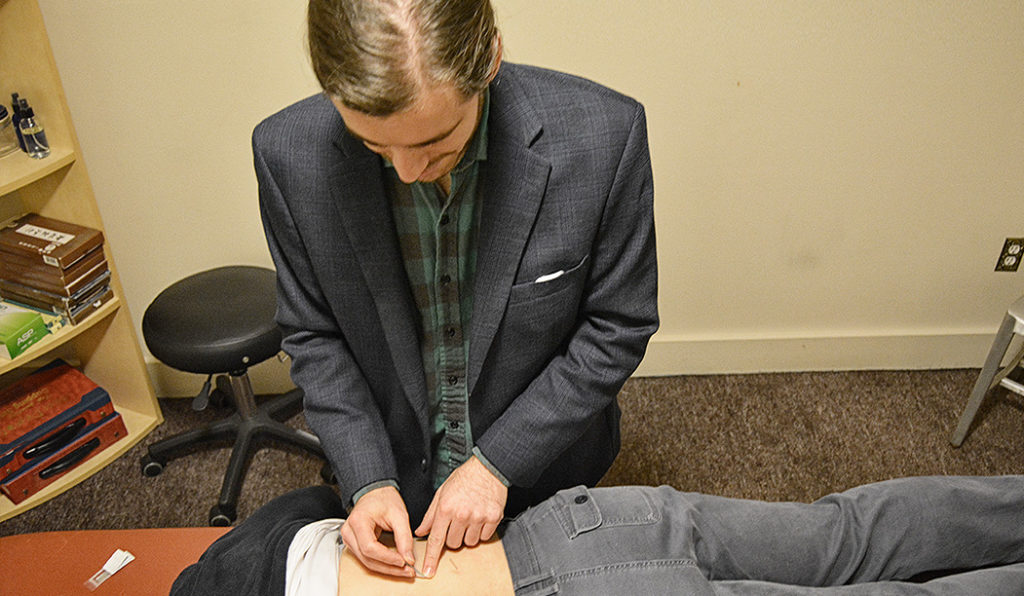 Michael Keane L.Ac.

Michael Keane L.Ac. B.A. Philosophy, East Stroudsburg University
M.A. Acupuncture, Won Institute of Graduate Studies, Glenside PA
Certificate in Chinese Herbal Medicine, Won Institute
I combine Acupuncture, Moxibustion, Electrical Stimulation, Gua Sha and Cupping, in order to treat chronic and acute pain issues such as joint, muscle, neck or back pain, headaches, and more. Besides a passion for treating pain and reducing people's stress, I also specialize in internal disorders such as digestive issues, asthma, allergies, insomnia, irregular menstrual cycles, hot flashes, anxiety, and sexual dysfunction, among others.  I am passionate about using acupuncture as an adjunct treatment to help people recover from trauma and addiction.
Andrew Seo, PT, DPT
Andrew Seo helps people get back to their lifestyle they deserve and achieve higher level of functional performance. He worked in every aspect of the outpatient physical therapy industry including folding towels as a volunteer to a business partner of a multi-clinic physical therapy center prior to starting his private practice. While working in the traditional reactionary sick care model of patient care, he realized that there's a fault to the healthcare system. So he broke away from the mold and developed a concept of highly individualized care where he can focus on person one at a time and figure out the root of the problem and get them back to their normal function and performance very quickly.
His compassion coupled with his interest in athletics and mechanics of the human body lead him to earn his Doctor of physical therapy from MCP Hahnemann University. He is empathetic, approachable, and has an impeccable attention to detail, which enable him to provide his patients return back to higher level of function and performance.
Andrew is a family man devoted to his beautiful wife and two wonderful daughters. He enjoys endurance challenges from obstacle course and trail races to triathlons. In the winter, you will probably find him on the slopes skiing or on his bike trainer sweating up a storm, and cross train with a "work out of the day". Being involved in sports his whole life and suffering injuries as a result of an automobile accident, have allowed him to better understand his patients. He stands as living proof that anyone can overcome pain and aches as long as you bring forth grit and tenacity each day.
Andrew has been trained and inspired by some of the best physical therapists throughout the world. He continues to travel the country learning from the finest practitioners so he can offer the best care to his patients. His unique integrative holistic approach to treating the entire person determines cause and prevent further problems to prevent reoccurrence.

P: 610.822.1072
F: 610.707.8003
E: andrewseo@fpphysicaltherapy.com
W: fpphysicaltherapy.com